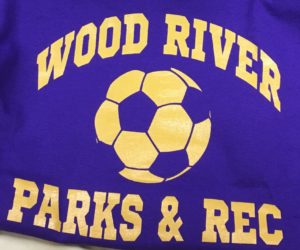 East Alton, Roxana and Wood River have joined together once again to form a Soccer League. Children ages 5-13 are invited to participate. The registration fee is $45.00 and includes a T-shirt. Registration starts in May! Registration deadline is Friday, August 4th.
Program Goals: Tri-City Soccer is a recreational soccer program that is primarily devoted to the enjoyment and development of soccer players without the emphasis on travel or high-level competition. The purpose of recreational soccer is to provide an opportunity for the participants to have fun, learn the sport and develop life skills including a lifelong love of the game. Smaller teams equals more ball touches. This is a 12 game season.
Equipment: Shin guards and cleats are required for all divisions. If you are in need of cleats check with your recreation center. Donations are frequently made to the recreation center & there might be some cleats available for your child.
Location: Games will be played either at East Alton Van Preter Park, Wood River Soccer Park or Roxana Park.
When: Season starts after Labor Day. During the week games will be played in the evenings starting at 6 p.m. Saturday morning games will start at 9 a.m.
Lil-Kickers Soccer
The Wood River and Roxana Parks & Rec Departments offer an Instructional Soccer program. Children ages 3-5 are invited to participate. . There will be 45 minutes of drills. The registration fee is $50.00 and includes a T-shirt. We partner with Elite FT Fitness Training for this program. They structure the drills and provide the instructors. This is a 5 week program.
Spring Registration is held March.
This program is scheduled to begin in April .
Fall Registration is held August – September.
This program is scheduled to begin in September.